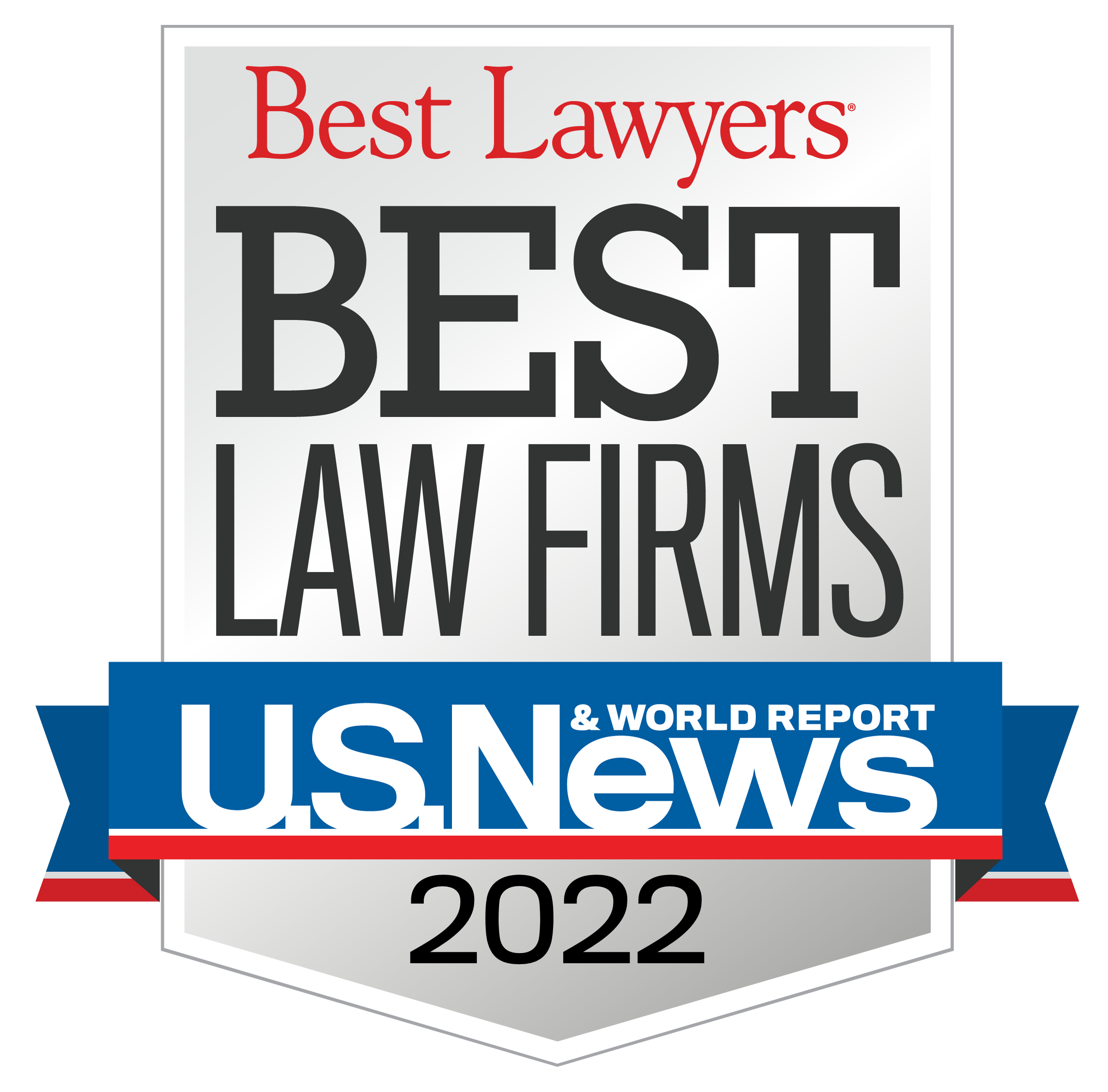 The Law Office of Jonathan Ackerman, LLC was again recognized in 2022 by U.S. News and World Report and BestLawyers® as a Best Law Firm in Maryland
Firms included in the 2022 Best Law Firms list are recognized for professional excellence with persistently impressive ratings from clients and peers. Achieving a tiered ranking signals a unique combination of quality law practice and breadth of legal expertise. These rankings are based on the highest number of participating firms and highest number of client ballots on record. To be eligible for a ranking, a firm must have a lawyer listed in The Best Lawyers in America, which recognizes the top 4 percent of practicing attorneys in the US. Over 17,000 attorneys provided almost 600,000 law firm assessments, and almost 7,500 clients provided more than 40,000 evaluations.

---

SuperLawyers
Jonathan was once again chosen in 2022 as a Super Lawyer in the State of Maryland.
Super Lawyers is a rating service of outstanding lawyers from more than 70 practice areas who have attained a high-degree of peer recognition and professional achievement. The selection process is multi-phased and includes independent research, peer nominations and peer evaluations.

---
Planned Giving Today
Jonathan has been a member of the Editorial Review Board of the national publication, Planned Giving Today, since 2019.

---
Charitable Planning and Organizations Group of the American Bar Association Section of Real Property, Trust and Estate Law
In 2015, Jonathan served on the Charitable Planning and Organizations Group of the American Bar Association Section of Real Property, Trust and Estate Law concerning comments presented to the Treasury Department on the proposed Treasury Regulations under Code Section 170(f)(8).

---
Releasing video vignettes on topics of interest to nonprofit organizations from the firmís CAR Newsletter and its new YouTube channel
Over the next 12 Ė 18 months, Jonathan will again be sending out the CAR Newsletter with a variety of substantive topics and including a link to a video on topics of interest to nonprofit organizations, including Conflicts of Interest, Sarbanes-Oxley, nonprofit fiduciary duties and liabilities, gift acceptance guidelines, and endowment issues. These videos are extracted from, and represent a small portion of, the full videos created in the GetGoodGovernance.com offering.

---

GetGoodGovernance.com
Jonathan launched www.GetGoodGovernance.com, which is dedicated to helping charities and other nonprofits help themselves. GetGoodGovernance offers an efficient governance policy production and implementation process at a reasonable price, and currently has 4 Policy Packages which are easily customizable, through a secure online portal, to meet the individual needs of small, mid-sized and large nonprofits. Jonathan also launched www.MDCharityLaw.com specifically for Maryland nonprofits and www.DCCharityLaw.com for District of Columbia nonprofits. GetGoodGovernance also offers a Legal Compliance Review component to certain nonprofits.

---

Elected to the 2010 Board of Directors of the Partnership for Philanthropic Planning
Jonathan has been elected to the 2010 Board of Directors of the Partnership for Philanthropic Planning (PPP). PPP is a national nonprofit organization whose purpose is to help financial advisors and charities to better serve their donors and clients by creating charitable giving experiences that are the most meaningful in achieving both charitable mission and the philanthropic, financial, family and personal goals of the donor.

"Charitable gift planning and its role in the philanthropic planning process are rapidly evolving" said PPP President and CEO Tanya Howe Johnson. "Jonathan's understanding of the charitable gift planning field and experience working in this changing environment will be valuable assets as the Partnership continues repositioning to provide expanded service to the nonprofit and charitable estate planning communities."

PPP is supported by 128 local councils and over 8,000 individual and council members, as well as charities, associations and business organizations.

---

Radio Show Interview
On May 19, 2009, Jonathan was interviewed by host Charles Wolpoff on the topic of Estate and Charitable Gift Planning. You can Listen to the Interview to hear Q&A with Jonathan on this important topic.

---
Donor Advised Fund Task Force
In 2007, Jonathan was the Chair of the Donor Advised Fund Task Force for the National Committee on Planned Giving which prepared a response to the IRS request for public comment pursuant to Notice 2007-21.

---
Owings Mills Lawyer Speaks on Charitable Giving at Canadian Gift Planning Conference
Attorney Jonathan Ackerman was a plenary speaker at the 10th Annual National Canadian Association of Gift Planners Conference in Vancouver, British Columbia, Canada.
Mr. Ackerman, who recently completed a term as president of the National Committee on Planned Giving, has a solo practice focusing on charitable gift planning. The Law Office of Jonathan Ackerman, based in Owings Mills, Maryland, represents tax-exempt organizations and individuals throughout the United States.

---
Planned Giving Today
In the September, 2003 issue of Planned Giving Today, Jonathan published an article entitled, "Planned Giving Value Chain", which was adapted from his Presidents Address at the 2002 National Conference on Planned Giving in Nashville, Tennessee. [more...]

---
CLT Forms
In October, 2003, Jonathan prepared, on behalf of the Government Relations Committee of the National Committee on Planned Giving and with the assistance of Erik Dryburgh, Esquire, a response to Notice 2003-39, in which the IRS requested comments regarding the creation and publication of charitable lead trust sample forms. This program is very important to the planned giving community, because the publication of CLT forms by the IRS will further legitimize, and hopefully increase the use of, this under-utilized and extraordinarily valuable, planned giving vehicle.

---
Jon Ackerman Testifies on Capitol Hill
On October 18, 2001, a week after the discovery of anthrax particles at various government buildings in our nation's capital, Jonathan presented testimony on Capital Hill in favor of Senate Bill 1300 (the repeal of the 2% excise tax on private foundations), on behalf of NFL Pro Bowl Defensive End Michael McCrary's private foundation, Mac's Miracle Fund, at a press conference held by Senators Rick Santorum (R-PA) and Evan Bayh (D-IN).